We all laugh, don't we? But how often? When was the last time you laughed your head off? When was the last time you teased a friend of yours? There are so many things that we can ponder about, so many things that we question. Let us have a look at some of the questions that you might be asked about laughter in the discussion section ( Part III ) section of IELTS.
What is the reason for people laughing?
People laugh when they find something funny and it could be different for different people. May be a joke on humanity might give laugh to some but for others it could be a plain santa banta joke. Some people even laugh at adversity. They laugh to ease out tension and face the issue in a better way. But, mostly people laugh when they think something is funny.
Do you think that the less the people laugh, the older they get?
I don't know about older but they definitely become dull. Laughter is that one thing that very easily eases out tension and makes things lighter. People who tend to laugh less start representing the difficulties they are facing and it shows up in their body. But, older I wont say. Because I have met some very old may be the ones in their late 60s and more funny and active than many of my counterparts.
Do you think that when people laugh it is always genuine or sometimes people even fake it?
Earlier, people did laughed a genuine laugh but with times changing people have learn the art of faking a laugh. Most people have to do it because of work pressure. So, may be when there boss has cracked the joke they tend to laugh. But, I think you can easily recognize a fake laugh, It often ends very abruptly.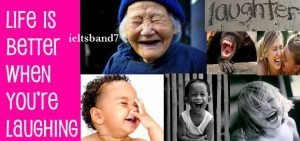 How do you think can laughter be used in a negative way?
Laughter can very easily be used negatively when one starts laughing at others instead of with others. So, if one is laughing at the color, or shape or may be the failure of someone, laughter can be very negative and break down the confidence of the person laughed off.
In what situations is it important to laugh and when is it improper?
I think if the joke is not on anyone particularly and the thing being said is funny and I think one should definitely laugh. Also, if there is some tension about something or someone is not feeling well, I think laughter becomes very important. It can also help a patient to recover soon. But, when the laughter is used against someone, to bring them down or to make them feel low, it becomes very improper.
Do you think people who can tell a joke or make people laugh are at an advantage?
Surely they are. Laughter is that one thing that can very easily break that ice. When you meet a stranger, it is only laughter that can help you to become friends. It is the easiest way to break the awkward silence. Since people good at telling jokes can do it, I think they tend to have more friendly relations with people and a very healthy lifestyle.
Why do you think is some people's laughter contagious?
Some people laughter is very striking because they laugh their heart out. Any innocent person who has nothing wrong or evil inside their heart tend to have a great laughter. A laugh that can make some one else laugh as well. Like that of a child, it is so innocent, so pure, no wrong intentions, no double thoughts.
There is a saying that "laughter is the best cure"? Do you think it is? Why?
Laugher surely has its own benefits. When one person laughs, it relaxes the entire body releasing the physical and mental stress. It even improves the immune system and decreases the stress hormones. Doctors believe that laughter helps on to resist the diseases. Even more, it triggers of endorphins that promote overall well being of an individual. It even improves the functioning of blood vessels and increases blood flow, reducing the chances of heart attack and other cardiovascular diseases. With all these benefits, definitely laughter is the best cure.
IELTSBAND7