There is so much that needs to be done when you meet a person. You have to introduce yourself to the other person and then there are times when you need to introduce two different people who and make sure that they are able to have a good conversation. Certain things are to be kept in mind and this is something we all do lot of times. Let us today have a look at some of the questions related to introducing people.
The favorite topic for new acquaintances in Britain is the weather, in America it's where you come from, what is it in your country?
The best way our people start a conversation is by the question,"how are you"? So, from the answers they get the scope for more questions. So, people would like to know about how your family is and how are you liking the place and stuff like that. It is more of personal in our culture.
If you don't really like this new person how do you finish the conversation and make your escape?
Most of the times I am like, I am sorry but I have got some work and make an escape. Other times, I pretend that there is a urgent call that I need to take and have to leave.
What makes you remember a new person that you have just met? Do you remember them for long?
The only thing that I remember about a new person is their sense of humor. Nothing else. I think it is the best way to grasp someone's attention. If I meet them regularly, I think I do remember them or may be sometimes, if what they said strikes me,I tend to remember them for a long time.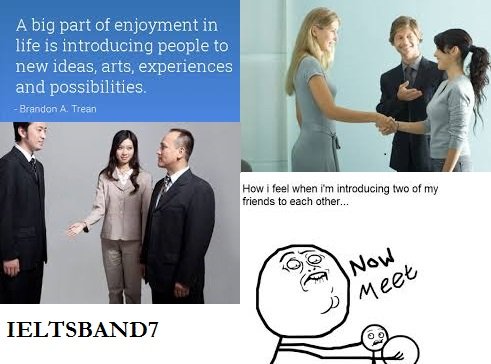 What does your name mean?
I am Avantika and it means queen. Sometimes, it happens that I start feeling as if I am the queen.
What are the customary greetings and behaviors for meeting/greeting someone in your culture?
When we meet new people in our culture, we make sure that we can give them the best of food, because that is very important. Apart from that, we make sure that they don't face any problem because there is saying in our culture that guest is God and we try to follow it most of the times.
How do you introduce two people to each other?
When introducing two people, I make sure that they both get a common ground on which they are able to interact with each other. Because, simply telling people each others name is of no use unless they don't have a common ground where they are able to interact with each other and as a host I think it is my responsibility to do that.
When you introduce people do you use their whole names or just first names?
I prefer using their initial names only, it is when in a group of people there are some common names, that I go about telling the full names.
What are the advantages of meeting new people when you move to a new country?
When you meet new people, the best thing is that you get to know about their culture, the way that you can never know when you are. They know the local history, the important places to visit, the areas that are not in the google,  but are there in hearts of people. So, when you interact with them, you get to know that and it is amazing.
What are the first things you notice when you meet someone?
The first thing that I notice about someone when I meet them for the first time is their smile. I think smile is that one thing that is very important for me and if a person does not have a smile that touches my heart, I mostly tend to stop talking or interacting with them.
How important is it to smile when you meet someone for the first time?
Very important. Smile, I believe is the gateway to someone's heart. It just is so much more positive and pure that it just brings smile onto other person's face and breaks the ice for further conversation.
Do you like to kiss, shake or bow when you meet a new person?
I prefer shaking hands when I meet the other person. Shaking hands gives me the confidence to carry on the conversation ahead and get to know the other person as well. Also, it is neither to formal or informal. It brings in the feeling of trust and faith and I think that is very important for building a relationship.