Sports are an essential part of our lives. Some people are born athletes, some become with practice while there are many for whom sports is just a part of their lives. Something that people tend to do to remain fit. No matter how sport is part of your lives, if you want to be fit, there is some sort of sport event you should be part of. Let us today have a look at a cue card related to sports.
Describe a sporting event that you have attended. You should say:

– what the event was
– when the event took place
– who you went there with
and explain how you felt about it.
It was the year of 2011 and I along with my friends went to see the ICC world cup, where the finalist were India and Srilanka. There were speculations that India might win and if that happen, it would be after almost 2 decades that India will win. There was lot of craze in all of us and we decided to attend the event and be part of. What was more exciting was that Sachin Tendulkar, who is India's best cricketer, was playing for the last time in world cup. With so much associated with that world cup, we decided to go and watch the game.
The finals between India and Srilanka was on April 2, 2011 and I remember, the heat of the environment was so high that it was not just a match, it was so much more than that. There was an excitement, a flair of enthusiasm among all the people to witness it. Being a part of crowd, I think most of the Indians were very positive about it.
I and my friends got hold of seats that were good enough and we were able to see the players and the game clearly. Even more, people around  us started interacting with us and with every passing ball we started giving judgments, playing silly games of deciding what will be the score.
What was the most amazing part of the game was the final over, the over in which the entire nation stood still to watch every ball, every second and every minute seemed so crucial and when finally Dhoni, our captain hit the ball it was amazing. There are several sporting events I have been part of, but nothing has ever given me memories like the World Cup Finals 2011.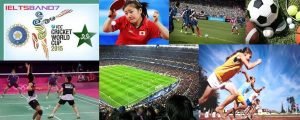 ---
Unfortunately, I have never been able to watch a sporting event live, but there have been several that I have watched on television. The one that I particularly remember is the London Olympics. Me and my friends were so excited about it that they came over my house and we watched it together with me and my family. The event took place in the summer of last year.
We all were so excited about the events, not particularly the games but also the other events that were going on, the speeches and the people who had come and then the atheletes. They were truly amazing, the way they played, we in our homes could feel the heat of the moment. I wonder what the sportsmen might have felt. The moment when some won Gold, the other times when they lost it, it was a display of human emotions and it was truly amazing.
Although, not all of us were very excited about the entire Olympics. Like, me and my one friend was not particularly interested in the boxing event. So, during that time we preferred going out and talking about other things in life.
It was during the Olympics that I realized that it would be great to be able to watch this event live and we are planning to go and watch it, wherever it happens the next time.
---
International Experienced Teacher Best Training By CELTA Trainer. Best Results
Easily Get Required Score
IELTS Exam Dates Available, Small Batch Size with Flexible Time, Professional.
Easily Get Required Score
I am interested in IELTS
Pass with Confidence, Dehradun
Small Batch Size with Flexible Time, professional faculty.
Learn From Experienced Teacher
Best IELTS Coaching Dehradun
Best IELTS in Dehradun Uttarakhand
GMS Road
Apply for Class Courses Today
Good Results. Small Batch Size, Flexible Time and Professional IELTS Teacher
Best IELTS coaching classes
IDP certified British Council trained and CELTA certified experienced trainer.
Easily Get Required Score
Tel:8439000086
Tel:8439000087
Tel:7055710003
Tel:7055710004
Tel:7055710009Feel free to call for suggestions and queries.
IELTS Band 7 Dehradun
Near Ballupur Chowk, Dehradun
IELTS Band 7 Saharanpur
Parsvnath Plaza, Saharanpur
email: info at ieltsband7.com