There are so many times when instead of choosing a direct face to face conversation, we choose letter or emails to express ourselves. Some of them are the
Describe an important letter you wrote to someone.

You should say:

When you wrote it
Whom you wrote it to
What it was about

And explain why it was an important letter.
Sample Answer One
There have been many letters that I have written which too an extent have shaped my life but I remember writing a letter to a friend I drifted apart after some misunderstandings. For a very long time, I wanted to know the reasons behind the things that happened in between us and why we tried to do the things that we did.
It was almost frustrating and annoying and after three years I gathered all the courage and wrote to him.
I told him about how I felt about our relation and what irritated me and how I felt after it all was over. The entire journey of three years, I penned it down, hoping for some explanation on his behalf as to why he did what he did. But, for my shock or surprise, he simply told me that he has forgotten everything and even if something had happen in the past, it is all over and there is no specific reason behind it.
I was shattered in the beginning because I truly had to think a lot before I could just pen down everything and instead of giving me any explanation he simply sided away. The reason the letter was very important for me because I could finally move on with my life and there were so many things that I learnt. One of them being that there is no point being silent in a relation and then you have to make sure that the first person to respect you and love you is you and you are responsible for whatever happens to you.
I believe had I not written the letter, I wont have ever gathered the will power to move on with my life and make something good out of it.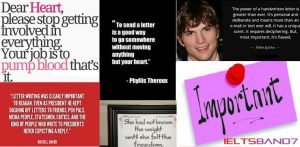 ---
Sample Answer Two
There have been so many letters that I have written in my life, both at personal and professional level. But, the one letter that I regard as truly important for me and the one which actually helped me shape my career is my resignation letter.
I remember working for a multi national company for about a year and it was during that time that I realized that this job is not giving me any fun and excitement to live about. There is a fixed salary that I get and there is nothing much more than that. No targets to meet and nothing exciting.
There is no work pressure and the feeling of getting things done, because you are working as a team and it is more about collective, so neither the praise nor the punishment comes to individual and I think in some ways it takes away the individuality from the person.
The reason the letter is very important for me is because I had to think lot of times and it was after I had written around 3 resignation letters that I finally decided that I want to do something else with my life. It was a great experience in that company but what was great was to be able to end the journey at the right time. So, I had to fight with my friends and family and the people who care for me the most and then do something that is best for me.
It was after that letter that I realized that I do have lot of courage and can do whatever I want to in my life.
---
International Experienced Teacher Best Training By CELTA Trainer. Best Results
Easily Get Required Score
IELTS Exam Dates Available, Small Batch Size with Flexible Time, Professional.
Easily Get Required Score
I am interested in IELTS
Pass with Confidence, Dehradun
Small Batch Size with Flexible Time, professional faculty.
Learn From Experienced Teacher
Best IELTS Coaching Dehradun
Best IELTS in Dehradun Uttarakhand
GMS Road
Apply for Class Courses Today
Good Results. Small Batch Size, Flexible Time and Professional IELTS Teacher
Best IELTS coaching classes
IDP certified British Council trained and CELTA certified experienced trainer.
Easily Get Required Score
Tel:8439000086
Tel:8439000087
Tel:7055710003
Tel:7055710004
Tel:7055710009Feel free to call for suggestions and queries.
IELTS Band 7 Dehradun
Near Ballupur Chowk, Dehradun
IELTS Band 7 Saharanpur
Parsvnath Plaza, Saharanpur
email: info at ieltsband7.com