Religion forms the basis of belief in many parts of the world and there are so many religions of the world and everyone teaches the way of reaching to God. Sometimes it is thought that the one thing that should have united us, God, has ended up dividing the world. There are people, hence, who believe in God but certainly not in any religion. Let us today have a look at some of the questions related to religion.
Is religion important to you?
Not very, I would say. I think I fall in the category of people who certainly do believe in God but are not very sure of religion. I think it is important to have a stable ground, which religion surely provides, because it gives you the code of conduct, which if people adhere to, they are more likely to do positive things in the world.
What is the main religion in your country?
Hinduism is the main religion of our country with most of the people in my country being Hindus. But, then there are several other religions, which are celebrated across the country, from Buddhism to Jainism and Christianity, Islam, Sikhism and lot more. It is the existence of so many religions that make India unique.
Why do you think religion is important in our lives ?
I believe religion teaches you how to live, it teaches you to have faith in a bigger eye than yours. It teaches people how to be better individuals and make them understand the meaning of life. A person following a religion is able to have a balanced life, because following the code of conduct of different religions, helps in making sure that the person does not do something wrong in the heat of the moment.
Do you have a religion?
Yes, I am born in a Hindu family, but in recent years, because of its negativity, I have come upon to question it. Presently, I am on a quest of figuring out what truly my religion is.
What countries do you think have religious freedom?
I believe every democratic country gives religious freedom, with India being one of the largest democracy. People in India belong to different religion and are able to maintain peace and harmony with each other.
Have you changed your religion?
No, I have never changed my religion, but I think when I start understanding my religion better, I think I will be able to accept it better.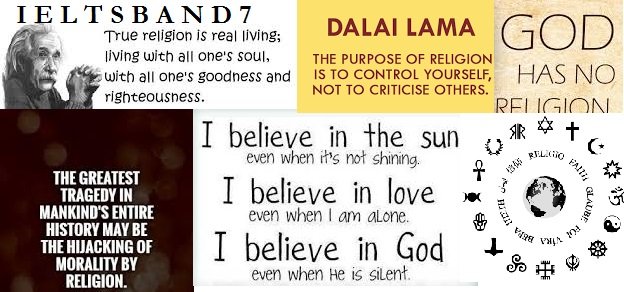 Can you tell us about your religion?
I belong to a Hindu family and my religion is Hinduism. Hinduism is regarded as the oldest religion of the world and is the third largest religion of all. We have got our vedic texts that we profoundly believe in. According to Hinduism, the universe was never created, it is something that has always been and that will always exist. According to Hindu mythology, Shiva is the ultimate power. It is believed that it is Shiva who created Vishnu and Bhrama. There are several theories about how the universe was created in the Hindu religion and there are several Gods and stories that we tend to believe in. However, there is one thing for sure, that in a temple and in doing the temple chorus, one can find eternal peace.
Have you ever been persecuted because of your religion?
No, I have never been outcast because of my religion. The main reason being that I have always lived in India and Hinduism is the major religion over here. But, then there are some friends of mine who have been told to step aside because of their religion. I remember a friend of mine, she was a Muslim and when she started the hunt for a house, it was very difficult for her to find a home. Some people directly told her to step aside because of her religion. Having said that I think there are different types of people, now the place she has got is in a society with majority Hindus and she is enjoying it.
Do you know someone who has gone to war for their religion?
I can remember the Leabnese Civil War that lasted for around 25 years, ending only in I think 1990. There were lot of religions involved and it is said that families affected have still not found stability. Apart from this, there is a constant fight between India and Pakistan for Kashmir, where some believe it should lie with Pakistan because majority of Kashmiris are Muslims while others thing it is the right of Indians to have it. No matter what, I think involving something as pure as religion in a fight, just takes away the faith of common person from something as great as God.