IELTS Speaking Sample Answer # Restaurants
Restaurants are the place where people go to have food, spend some quality time with their loved ones, get a break from the daily routine and enjoy the hard work they have done. With time, more and more people have started visiting restaurants, for parties, corporate meetings or just to while away time. Let us today have a look at some of the questions related to restaurants.
Cue card – describe your favourite restaurant
You should say:

Where it is located
What it looks like from inside and outside
What kinds of food they serve
And explain what makes this restaurant so special to you and others
Sample Answer
Although I am not fond of eating out due to my healthy lifestyle every now and then I do go out to a restaurant located in south Delhi by the Delhi University campus. The restaurant is called Echoes and it is a great place to be at. It serves different types of cuisine and their milkshakes are quite popular. It has great vibes and the crowd that visits is uni going so the menu gets updated quite regularly according to the market demands.
[PARA 1]
It's quite spacious and is spread across a single floor. The restaurant has a very upmarket feel to it and the interiors are very well done. It has various paintings hanging on its walls but the most striking feature is the Hogwarts themed lamps that hang from the ceiling of the restaurant. At night when they light up, it feels like you are sitting at Hogwarts and having your dinner. From the outside, it is a bit congested but the service they provide makes up for everything else.
[PARA 2]
They serve different kinds of cuisine. The Chinese there is quite popular as it's very delicious. They have their own versions of the popular street food which is quite famous among the college going students. The price is reasonable and they are busy almost all times. It's better if one calls in before they visit the place as they are fully booked and getting hold of a table especially at weekends can be quite a challenge. I was particularly impressed by their spirits collection as it is one of the best that I have seen in my country.
[PARA 3]
There are numerous reasons as to why I love this place. The ambiance is great and the owner of the place is a very thoughtful person. The staffs that work there are deaf and dumb so you communicate with them through sign language or using a pen and paper. In this cruel world it is the small things that make the difference and by providing employment to such people he has surely made a positive impact in the society. Not to mention I had my first date here with my wife so yeah it'll always be special to me.
Follow-up Questions
What is your favorite restaurant near the place that you live?
My favorite restaurant is "Dolphin". I really like it for the food and the ambiance of the restaurant. It is that restaurant that I used to visit a lot with my friends and have made some great memories in that place. The best part about that restaurant is that they have got great service and is a perfect blend of homemade food and the one prepared by the cook.
What is the best restaurant you have ever eaten?
I think the best restaurant would be "The Hub". There are many places that I have visited and so many restaurants that I have gone to, but there is this something unique about it. They have got electric candles and even if you are going during the day, you get a feel of a candle light dinner. The food is amazing and the staff really polite.
Have you ever eaten at a restaurant abroad? What was it like?
I have never been to abroad, so I am not very sure of it. But, I have read about some restaurants of abroad. One of them is Alexander's Steakhouse in Cupertino. It is regarded as one of the best restaurants with a person telling you patiently about the menu and making sure you have a great meal.
What do you think makes a restaurant great?
I think apart from the food, the ambiance and the service or the staff makes a restaurant great. It is good to have great food, but then the seats in which you are sitting, the lighting of the restaurant, the staff and the music the restaurant chooses to play has a very important role in making a restaurant great.
Do you prefer to eat at your parents' house or a restaurant?
I prefer my parent's house because no matter how great a restaurant is, nothing can replace the feeling of eating at home with your parents and siblings. The talks and the laughs, it is all so great to be replaced.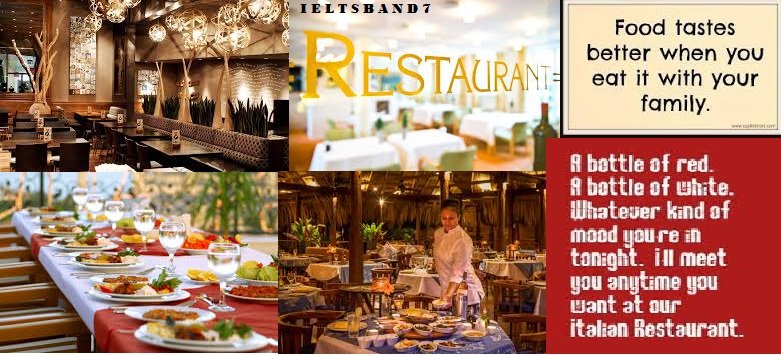 What is the worst restaurant you have eaten?
I remember, eating at this restaurant at Puri, the name I have forgotten. But, it was looking average from outside so we just went in. When we looked at the menu, the food was expensive but we thought that it might be good so we ordered it. The food was really bad for starters but when my friend ordered for Kebab, instead of giving that they brought Fried rice. When he asked to change the order, the staff asked him to eat it because there is no other option available. Not only he had to pay, but also eat something he did not like. The only reason we sat there eating was that there were no other restaurants and we were really hungry.
What is the strangest restaurant you have heard of?
Well, the weirdest restaurant that I have ever heard of is Modern Toilet in Taipei, Taiwan. The restaurant has everything in the form of a Toilet. So, you could see bowls in the form of flush, seats in the form of flush and then the ice creams in the form of shit. Sometimes, I wonder how do people even go and eat there.
How do you feel about theme restaurants?
I think theme restaurants are really great because there is so much specialty associated with them. There is nothing general and one can feel so great about it. There is a story to tell there, a reason behind everything that is placed there. I think they are the perfect paradise for tourists and travelers.
Do you prefer darker or brighter interiors for restaurants? Why?
I prefer darker interiors. I am not very sure but I think dim lights bring along with them that calmness and smoothness of candlelight dinner. It calms the mind and it becomes so much more easy to listen to the other person and have a lovely conversation.
Feel free to call for suggestions and queries.
IELTS Band 7 Dehradun
Near Ballupur Chowk, Dehradun
email: info at ieltsband7.com