Pie chart is a type of graph in which a circle is divided into sectors that each represent a proportion of the whole. These charts are best preferred when comparing different sub-categories or to represent the whole of the entire situation. This time let us have a look at a sample answer that compares two pie charts and summarizes the information required.
WRITING TASK 1
You should spend about 20 minutes on this task.
The pie charts below show the distribution of the market share of different segments in Indian Retail Industry from 2010 to 2015.
Summarise the information by selecting and reporting the main features, and make comparisons where relevant.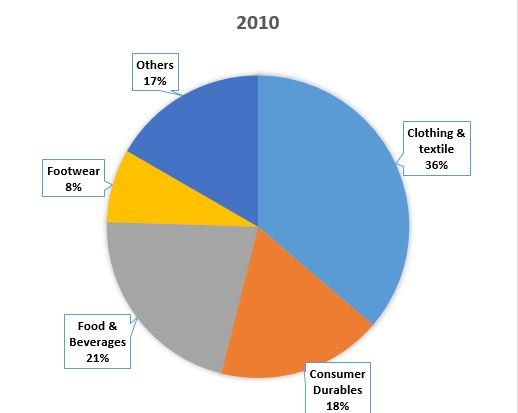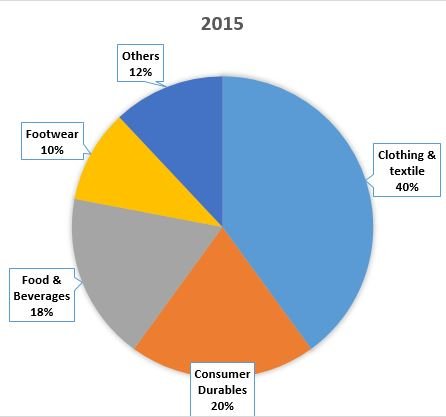 Sample Answer
The two pie charts compare the distribution of segments in the Indian retail sector during 2010 and 2015.
The significant segments for the retail sector in India were clothing and textile comprising  approximately 40% of the total market share. Whereas footwear and other sectors were the minor contributors in the Indian retail industry.
As we can see, clothing and textile consisted of 37% in the first year and showed an insignificant increase of only 3% in 2015. On the contrary, in 2010, the proportion of food and beverages fell marginally to 18% in 10 years.
With reference to the market share of the other two constituents of retail industry,there was an approximate 4% growth in consumer durable whereas, footwear segment rose by 2%  in 2015.On the other side, the market share of other segments declined by 5% in 2015,by 17%v to 12%.
(156 words)
IELTS Dehradun Uttarakhand Tel: 8439000086 , 8439000087