Tips On Writing Effective Essay
Here is the tips on writing effective essay. Essays are an important part of IELTS. Getting a high score in IELTS writing task depends hugely on writing an effective essay.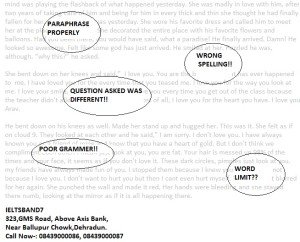 Some of the best ways by which you can write an effective essay are-:
READ THE INSTRUCTIONS

No matter how many times you have practiced the question, make sure you read the instructions and completely understand them before you start writing.

THINK

You are getting 40 minutes to write the essay, so Think before you write. .Make sure you know what you are going to write, before you start writing.

PREPARE THE OUTLINE

It is always preferred that you write an outline of the essay, and cover all the aspects of the essay. While writing the essay, all you need to do is expand on the outline.

LANGUAGE MATTERS

Although you are expected to use a high level of vocabulary, but don't forget to make sure that people are able to understand your essay. After all, the marks are divided equally for all the parts of an essay.

GRAMMATICALLY CORRECT

Make sure that your sentences are grammatically correct. Also remember, to use different structures of grammar.

SPELLINGS MATTER

While improving on the other important areas, we often forget the little details. Make sure that the spellings are correct in your essay. The lesser the mistakes the higher the score.
Learn how to write effective essays at IELTSBAND7
323,GMS Road, Above Axis Bank,
Near Ballupur Chowk,Dehradun.
Call Now-: 08439000086, 08439000087