Greece says YES to IELTS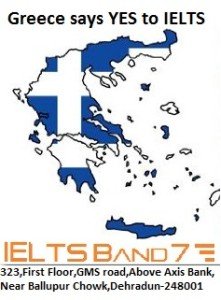 Slowly but surely IELTS finds its way into the Greece – more universities joined the list of many others already recognizing IELTS in the Greece.
Greece has opened its borders to IELTS. Organizations in Greece to recognize IELTS – surely others will follow and it's just a matter of time. Approximate 70+ organizations and universities accepting IELTS. There is the list of some of them.
– AIT Athens Information Technology
– Akmi Metropolitan College
– ALBA Graduate Business School
– American College of Greece
– American Farm School, Perotis College
– Anatolia College of Thessaloniki
– Athens College
– Athens Information Technology
– Athens University of Economics and Business
– Campion School – Athens
– Carnegie Mellon University
– City Unity College
– City University of Seattle, City Unity College
– City University of Seattle, CU-TEI Piraeus Program
– Ecclesiastical School Kalymnos
– European University – Athens
– European University – Thessaloniki
– Greek Bible Institute
– Greek Open University, Patras
– Guadaloupe Media Langues Caraibes Media Langues Caraibes
– Hellenic American Educational Foundation – Athens College
– Hellenic American Educational Foundation – Psychico
– Hellenic American University, Athens
– Hellenic Open University, Patra
– Hellneic Management Association
– International Hellenic University
– Ionian University
– La Salle University, College of Professional and Continuing Studies
– Mandoulides Schools
– Manios Institut of Volos
– MBS Athens
– Mediterranean Agronomic International Chania
– Mediterranean College
– Moraitis School International Baccalaureate
– Neoi Orizontes
– New York College
– Parsekvas Languages
– Pierce College High School
– Technological Education Institute of Athens
– AIT Athens Information Technology
– Akmi Metropolitan College
– ALBA Graduate Business School
– American College of Greece
– American Farm School, Perotis College
– Anatolia College of Thessaloniki
– Athens College
– Athens Information Technology Greece
– Athens University of Economics and Business
– Campion School – Athens
– Carnegie Mellon University
– City Unity College
– City University of Seattle, City Unity College
– City University of Seattle, CU-TEI Piraeus Program
– Ecclesiastical School Kalymnos
– European University – Athens
– European University – Thessaloniki
– Greek Bible Institute
– Greek Open University, Patras
– Guadaloupe Media Langues Caraibes Media Langues Caraibes
– Hellenic American Educational Foundation – Athens College
– Hellenic American Educational Foundation – Psychico College
– Hellenic American University, Athens – BS, MBA
– Hellenic Open University, Patra
– Hellneic Management Association
– International Hellenic University
– Ionian University
– La Salle University, College of Professional and Continuing – Studies
– Mandoulides Schools
– Manios Institut of Volos
– Mediterranean Agronomic International Chania
www.ieltsband7.com 084390 00086 , IELTS Band7, 323, GMS Road, Dehradun, Uttarakhand 248001