France says YES to IELTS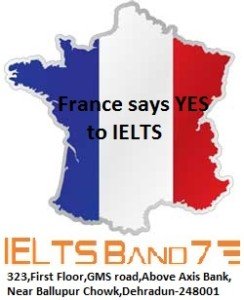 Slowly but surely IELTS finds its way into the France – more universities joined the list of many others already recognizing IELTS in the France.
France has opened its borders to IELTS. Organizations in France to recognize IELTS – surely others will follow and it's just a matter of time. Approximate 30+ organizations and universities accepting IELTS. There is the list of some of them.
– Agrotech – Paris Institute of Technology for Life, Food and Environmental Sciences
– American University of Paris
– Audencia – School of Management – Nantes
– Bordeaux Ecole de Management
– Burgundy School of Business
– CCIP – Chambre de Commerce et d'Industrie de Paris France
– Centre D'Angers
– Centre d'études et de recherches sur les qualifications
– Centre International d'Admission Aux Études de Management (CIAM)
– Champagne School of Management
CNAM
– DIDAC Exchange Program
– ECE Graduate School of Engineering
– Ecole Active Bilingue Jeannine Miguel
– Ecole Centrale de Paris
– Ecole de Commerce Europeenne
– Ecole de Design Nantes Atlantique
– Ecole des Cadres
– Ecole des Mines d'Albi
– Ecole des Mines de Nantes
– Ecole d'ingenieurs de Tours
– Ecole d'Ingenieurs de Val de Loire
– Ecole Europeennes D'affairs Eap
– Ecole Francaise Lysee Stenhal
– Ecole National Superieur d'Arts et Metiers
– Ecole Nationale de la Meteorologie
– Ecole Nationale de la Nature et du Paysage à Blois
– Ecole nationale des ponts et chaussees
– Ecole Nationale Dingenieurs D'Technology D'Ind
– Ecole Nationale Superieur
– Ecole Nationale Superieur d'Arts et Metiers – Cluny
– Ecole Nationale Superieur d'Arts et Metiers – Talence Unviersity
– Ecole Nationale Superieur d'Arts et Motle
– Ecole Nationale Superieur de Chimie
– Ecole Nationale Superieur des Telecommunications
– Ecole Polytechnique Feminine
– Ecole Superieure Chimie Physique Electronique de Lyon
www.ieltsband7.com 084390000086 , IELTS Band7, 323, GMS Road, Dehradun, Uttarakhand 248001