Finland says YES to IELTS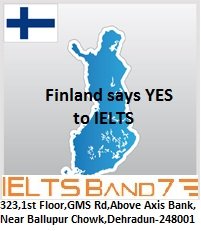 Slowly but surely IELTS finds its way into the Finland – more universities joined the list of many others already recognizing IELTS in the Finland.
Finland has opened its borders to IELTS. People's Finland to recognize IELTS – surely others will follow and it's just a matter of time. Approximate 50+ organizations and universities accepting IELTS. There is the list of some of them.
– Aalto University School of Art and Design
– Aalto University School of Economics
– Aalto University School of Science and Technology
– Abo Akademi University
– Arcada Polytechnic
– Central Ostrobothnia University of Applied Sciences
– Diaconia University of Applied Sciences
– EVTEK University of Applied Sciences
– Haaga University of Applied Sciences
– HAMK University of Applied Sciences
– Hanken School of Economics
– Helsinki Polytechnic Stadia
– Helsinki School Economics and Business Administration
– Helsinki University of Technology
– Helsinki Metropolia University of Applied Sciences
– International School of Social Sciences
– Iso Kirja College
– JAMK University of Applied Sciences
– Jyvaskyla University of Applied Sciences
– Kajaani Polytechnic
– Kajaani University of Applied Sciences
– Karelia University of Applied Science
– Kemi – Tornio University of Applied Sciences
– Lahti University of Applied Sciences
– Lapland University of Applied Sciences
– Lappeenranta University of Technology
– Laurea University of Applied Sciences
– Mikkeli University of Applied Sciences
– Novia University of Applied Sciences – Raseborg
– Novia University of Applied Sciences – Turku
– Novia University of Applied Sciences – Vaasa
– Omnia Vocational College
– Oulu University of Applied Sciences
– Pirkanmaa Polytechnic
– Saimaa University of Applied Sciences
– Satakunta University of Applied Sciences
– Savonia University of Applied Sciences
– Seinäjoki University of Applied Sciences (SeAMK)
– Sibelius Academy
– South Carelia Polytechnic (Etela-Karjalan Ammattikorkeakoulu)
– Sydvast University of Applied Sciences
– Tampere Polytechnic
– Tampere University of Technology
– Turku Centre for Computer Science
– Turku School of Economic and Business Administration
– Turku University of Applied Sciences
– Turku University of Applied Sciences – Pirkanmaa Polytechnic
323,First Floor,GMS road,Above Axis Bank,
Near Ballupur Chowk,Dehradun-248001