Italy says YES to IELTS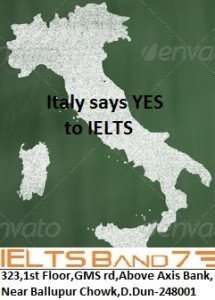 Slowly but surely IELTS finds its way into the Italy when Italy says YES to IELTS. More universities joined the list of many others already recognizing IELTS in the Italy.
Italy has opened its borders to IELTS. Organisations in Italy to recognize IELTS – surely others will follow and it's just a matter of time. Approximate 40+ organizations and universities accepting IELTS. There is the list of some of them.
– American University of Rome
– Bologna University Language Centre (CILTA)
– Centro Linguistico Italiano Dante Alighieri
– Centro linguistico univ. di Pavia
– Centro Studi Italiani
– Dickinson College
– FISD Consortium
– Fondazione Rui
– Food Agriculture Organization United Nations
– Gestioni e Management
– High School for Language Mediators
– Inlingua – Brescia
– Interaction Design Institute Ivrea
– ISUFI
– John Cabot University (hosted by Grand Valley State University)
– Johns Hopkins University, Paul H. Nitze School of Advanced International Studies
– Libera Universita Internazionale degli Studi Sociali
– Lorenzo de' Medici S.R.I
– MIB School of Management
– Monash University – Prato Center
– Politecnico Di Milano
– Politecnico di Milano – Lecco Campus
– Politecnico di Milano- (MIP)
– Politecnico di Torino
– Regional Council for Lombardia Regione Lombardia
– Scuola Normale Superiore di Pisa
– Scuola Superiore G Reiss Romol
– Seconda Università di Napoli
– St. John's University – Rome
– Strategies Business School
– Telecom Italia Learning Services
– The English Academy
– The New Europe Master in Banking and Entrepreneurship
– Università Cattolica – Milano
– Università cattolica relazioni internazionali
– Università Commerciale Luigi Bocconi
– Università degli Studi 'Ca Foscari' di Venezia
– Università degli Studi del Molise
– Università degli Studi del Sannio
– Università degli Studi della Calabria
– Università degli Studi della Tuscia
– Università degli Studi dell'Aquila
– Università degli Studi di Bari
– Università degli studi di Bergamo
– Università degli Studi di Bologna
– Università degli Studi di Cassino
– Università degli Studi di Catania
– Università degli Studi di Firenze

IELTS Dehradun Uttarakhand Tel: 8439000086 , 8439000087
 IELTS Band7, 323, GMS Road, Dehradun, Uttarakhand 248001