Israel says YES to IELTS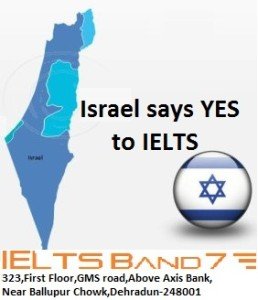 Slowly but surely IELTS finds its way into the Israel – more universities joined the list of many others already recognizing IELTS in the Israel.
Israel has opened its borders to IELTS. Organisations in Israel to recognize IELTS – surely others will follow and it's just a matter of time. Approximate 8+ organizations and universities accepting IELTS. There is the list of some of them.
– Arava Institute for Environmental Studies
– Beltzlel
– Ben-Gurion University of the Negev
– IDC – International Disciplinary Centre
– Shankar Israel, the Gaza Strip and the West Bank
– Technion – Israel Institute of Technology
– Tel Aviv University
– University of Haifa
Feel free to call for suggestions and queries.
IELTS Band 7 Dehradun
Near Ballupur Chowk, Dehradun
email: info at ieltsband7.com