Solving The Graph
The graph below shows the amount of fast food consumed by Australian teenagers in between 1975 and 2000.
Summarize the information by selecting and reporting the main features, and making comparisons where relevant.
Write at least 150 words.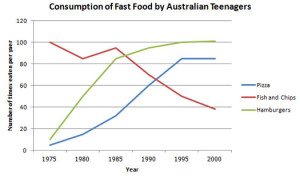 How to do it?
Divide what all you have to write in four paragraphs.
INTRODUCTION

This is the simplest thing to do while writing the paragraph because it already has been provided to you in the question. The first line of the question is itself the introduction. Now while writing it don't just copy whatever is written. Make sure you paraphrase it. That is make changes to it, use synonyms of the words already used.

BODY 1 and BODY 2

The two paragraphs that contain body must explain the graph. Make comparisons where necessary, but don't just try to copy down the entire graph. You do need to cover the entire graph, but only the important points. Remember you need to write 150 words, at maximum 170, not more than that.

CONCLUSION

This paragraph should bring out the two extremes of the entire graph. May be something was used or done more and the other thing very less, something that is the gist of the entire graph.
Graphs are really easy, once you understand what the graph is all about. Make sure you understand the graph correctly before you start writing the answer.