IELTS Speaking Sample Questions # Neighbours
We all live in a society with people around us. However, in the busy schedule that we all have molded ourselves into has led to us not having much contact with people around us. This time we are looking at some speaking questions related to neighbors.
Do you know the people who live next door to you?
I live in a society where we all have independent homes with a park in between the houses. Although, initially we were unaware of each other, with time we all have come to know each other. So, in spite of the busy schedule we have, we usually spend some time together in the weekends.
What kind of relationship do you share with your neighbors?
Well, it is more of a friendly relation because we both work for the same company and share our cars to work together. It is almost like a family friend and we do help each other out in tough situations.
Being a bachelor, I spend most of my time either working or studying or being part of some extra curricular activity. So, rarely do I get to spend time with my neighbors. However, I do know that there is a old couple that lives next to my house and we do pass smiles when we meet.
How can neighbors be helpful?
Neighbors, I believe are a family away from home. So, it is not only about just helping you in need, for example, in cases of emergency but also provide the emotional support when needed. There are times when we do get exhausted and then having someone to talk near by is something that really helps in the busy lives that we lead.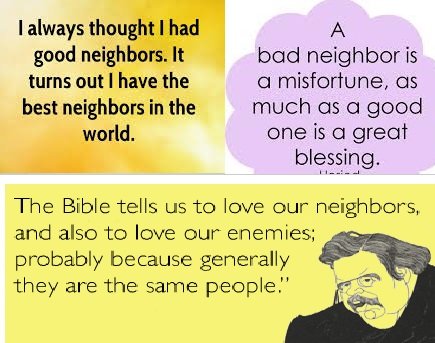 What kind of problems can people have with neighbors?
Although, I do believe neigbours are people you would love to have, but then having people beside you who don't understand basic nature of living, are truly a mess. For example, people who play loud music or those who ring your bell and run away. Then there are some people who tend to bitch about you in front of others. I think probably these are the kind of neighbors you would rather not have.
What do you like about your community?
I think the best part about my  community is that it is very safe and secure. Not only because of the guards and the cctv cameras, but because people know each other. So, if there is a problem you have got lot of people who can back you up. This I think is very important and although, there are some cases where I need to settle in, I really do love my community.
Are there any old people living in our society? What is their relationship with other members?
Not many, but yes there are some old people living in our society and since most of us are bachelors or very young, we treat them as part of our family. Most of the times, we go and meet them, interact with them. It almost feels like a family to them and us.
There are not many old people living in our society, mostly because many of them have settled in with their kids. But, we do interact with the older folks that live with us. Especially during the evening walks.
What do the people in your community do for recreation?
Most of the people in our society, go either for walk or gym for recreation. But, then there are some who go out and play badminton in the court as part of recreation while others prefer playing with kids.
Would you like to raise your children in a community like yours? Why or why not?
Definitely yes. Yes, I think the best part of my community is that we all stay together and yet stay separate. So, there is no hindrance of privacy but then in moments of happiness and sadness we all get together and I think this is very important for a child to grow well. Because, until he or she does not knows how to interact with people of different age group, the child does lacks things that help in future.
Does your community have meetings?
Yes, we have the monthly meetings on every fourth Sunday and it is important for every individual of the society to attend the meetings.