IELTS Graphs Sample Answer # Animal Population
IELTS Writing Task
You should spend 20 minutes on this task.

The graph illustrates the animal population present in IA over the period of 10 years. 

Write a report explaining the graph. You should write at least 150 words.
ANIMAL POPULATION IN IA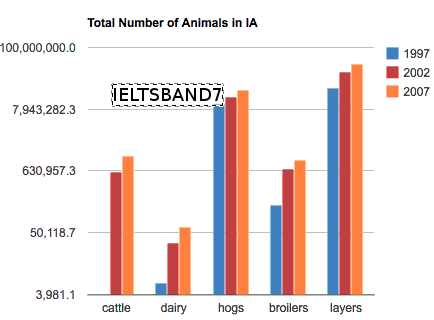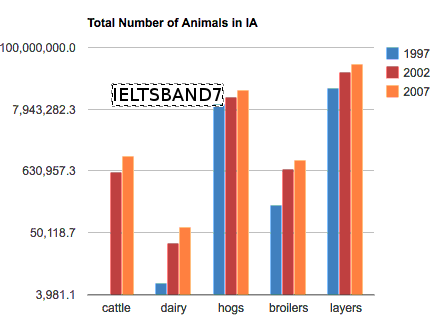 SAMPLE ANSWER
The graph illustrates the number of animals, cattle, dairy, hogs, broilers and layers present in IA from 1997 to 2007.
In the  year 1997, layers were the highest number of animals present followed by hogs. Broilers were present half in number when compared to hogs and layers whereas cattle were not present at all. However, by the year 2002, the population of cattle boomed surpassing the dairy animals and was approximately equal to the number of broilers. Around 7 millions hogs and broilers were present in 2002, while less than five million dairy animals existed.
Towards 2007, the population of all animals increased only with a minimal percentage, with hogs and layers being the maximum animals present in IA. The number of cattle and broilers remained approximately equal while dairy animals were the least present.
Overall, layers were the highest number of animals present in IA whereas while cattle were the least present initially, dairy animals were found minimal in IA over the decade from 1997 to 2007.
Feel free to call for suggestions and queries.
IELTS Band 7 Dehradun
Near Ballupur Chowk, Dehradun
email: info at ieltsband7.com