We all eat food and we ought to drink something. So, this topic forms part of the IELTS speaking part I questions. Let us now have a look at some of the questions and possible answers.
Can you cook?
Yes, I can cook the basic everyday food, necessary to be alive but when it comes to making those cuisines and flowery food, I am not very good at it.
Apart from the everyday food required to be alive, I really cannot cook anything else. But, very soon I am planning to join a cookery class to learn cooking.
If making maggie counts in cooking, I would say yes I can cook. But otherwise, no I really cannot. I can only prepare some snacks or tea and maggie, but nothing else.
Who does cooking in your family or house?
Cooking in my house is mostly done by my mother but sometimes my father also shares the load.
I live in a joint family. So cooking is mostly done by my mother and aunt. But sometimes, we kids also join them, helping them in the preparations of food.
I am living away from my parents because of the job, so I do the cooking myself.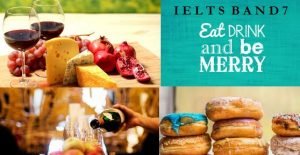 What is the most famous dish from your country? Can you describe it?
India is a varied country, with lots of cultures existing together. So, there is no one famous dish but there are lot of them. But, the little that I have traveled, I think rice is something most people eat with their own varieties. So, you can find people eating it with Chola which is prepared using Kabula Chana. Or with fish or coconut chutney. Some even prefer fried rice, so to make it, one needs to fry it in pan using vegetable oil and mix it with onion and peas and other vegetables according to their preferences.
What is your favorite dish?
I love dosa, a lot. Luckily, I have had the privilege to actually eat a lot of varieties of dosa. I had onion dosa, peas dosa, khara dosa and then the basic masala dosa. Also, there is this puri dosa and lot more. My favorite would be onion dosa.
What kind of food do you like?
I like south Indian food very much. I think apart from being light it is very healthy and one can digest it very well since it is not very spicy.
What is your main meal of the day?
My main meal is during the lunch time. I usually have either rice or chapatti during this time. Along with them I like having dal ,vegetables and curd and a sweet dish.
My main meal of the day is the breakfast. I prefer eating a heavy breakfast, so it includes, paratha with some curry and curd. Also, I like having a big glass of milk.
Do you prefer eating at home or in a restaurant?
I like eating at home. The reason being you can actually be whatever you want to, wear whatever you want to and while eating if you get a homely feeling I think it makes food more delicious.
I like eating at restaurant because it is more hassle free. You need not to bring your vegetable and the other stuff required to make food. Specially there is not much time consumed. You go, have food and come back. There is nothing like, preparing food and then washing dishes.
On what occasions do you eat special food?
Special food is prepared usually on either any festivals like holi or diwali or during birthdays. Apart from this, whenever anything good happens in anyone of our lives, we make good food to celebrate it.
Gone are the days, I think when we required any occasion to make special food. I think these days we eat special food whenever the mood strikes. Usually, during the weekends, because those are the days when we are free and have time to prepare proper food. Apart from this, the special days like during festivals and birthdays, we do eat special food.