Money Matters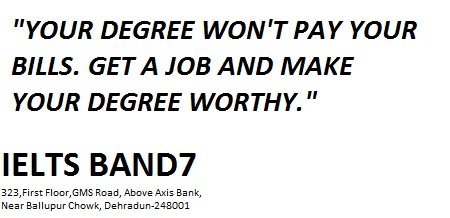 Do you want a degree from abroad universities to boast about it? Or do you want a career out of it? Because if you just want to swagger, pick any university blindly. But if you want a job, then just don't settle to a tag of the abroad university.
We often think that a degree from foreign college is enough to get a job. But the fact is nothing is ever enough. So what should you do if you want a reputable job? Well, apart from the hard work do a little smart work as well.
CHOOSE WELL-: You know there are times when a particular course has no job opportunities or very few of it. What to do then? Well, figure out the various courses offered and go for those which have some probability of getting a job. For instance, in the current market scenario, data analysis is one course that has become prominent and with upcoming world changes, everyone is looking for employees who are
MAKE IT WORTHY-: It might be the case that you may not get a job even after the completion of your course. So, what to do? PREPLAN. Spend some time on the website of the college. Find out whether the college provides some on-campus placements. Because it is always better to get a job on-campus. Off-campuses can turn out to be your worst nightmares. So, save yourself from the torment and make your degree worthy. Choose not only the university but the city with proper decision! Remember, you are spending your money on it!
Once you have figured out a college with great placement record, visit the website again and I shall tell you what next to do.