Hong Kong says YES to IELTS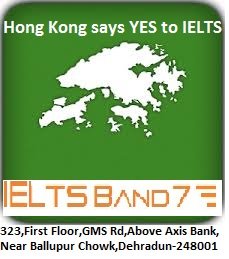 Slowly but surely IELTS finds its way into the Hong Kong – more universities joined the list of many others already recognizing IELTS in the Hong Kong.
Hong Kong has opened its borders to IELTS. Organizations in Hong Kong to recognize IELTS – surely others will follow and it's just a matter of time. Approximate 40+ organizations and universities accepting IELTS. There is the list of some of them.
– AOG Morrison College
– Aston Institute
– Canossa College
– CCC Chuen Yuen College
– CCC Rotary Secondary School
– Cheng Chek Chee Secondary School
– Cheung Chuk Shan College
– Cheung Sha Wan Catholic Secondary School
– Chung Chi College
– CNEC Lee I Yao Memorial Secondary School
– Delia Memorial School (Broadway)
– DMHC Siu Ming Catholic Secondary School
– Good Hope School (Primary Section)
– Heep Yunn School
– HKU School of Professional and Continuing Education
– Hoi Ping Chamber of Commerce Secondary School
– Holy Trinity College
– Hong Kong Academy for Performing Arts
– Hong Kong Baptist Theological Seminary
– Hong Kong Baptist University
– Hong Kong Examinations and Assessment Authority
– Hong Kong Institute of Education
– Hong Kong Polytechnic University
– Hong Kong Shue Yan
– Hong Kong University of Science and Technology
– Institute of International Education
– Kiangsu-Chekiang College (Kwai Chung)
– Kowloon Tong School
– Kowloon Tong School (Secondary Section)
– Lai Chi Kok Catholic Primary School
– Lasalle College
– Lingnan University
– Marymount Secondary School
– Middlesex University
– Moral Training English College
– Munsang College
– Our Lady of Rosary College
– Po Leung Kuk Ngan Po Ling College
– Po Leung Kuk Yao Ling Sun College
– Pui Ching Middle School
– Raimondi College
– Shaukeiwan Government Secondary School
– Shun Lee Catholic Secondary School
Feel free to call for suggestions and queries.
IELTS Band 7 Dehradun
Near Ballupur Chowk, Dehradun
email: info at ieltsband7.com