IELTS Cue Card # Course In College
College is the time when we shape ourselves. When we decide what are our areas of interest and what are the things that we want to do in our life. This is the time of becoming. Some do it by indulging in extra curricular activities, while others do it by taking some courses in college. Today, let us have a look at some of the cue card questions related to a course one took in college.
Describe a course you took in your college or university.

You should say:

What it was
When you took it
What you learned from this course

And explain why you took this course.
Sample Answer One
I remember we had a course in my Bachelors of UNIX. There were several other courses as well, but for some reasons I was fascinated by this course. It was great to learn UNIX, because understanding how it works made me understand how an operating system work and that in turn helped me in understanding how computers worked.
I took the course in my fourth semester of Bachelors in Technology. The course taught me how to write commands to make things work in the system and the commands were not the single lined or word commands. It was more like mixing and matching the commands to get the required output. There would be days when I would just worry about a single command and how to get a particular output. And then there were days in which I would break the entire code and try to run the code in pieces because of some error.
It was tough but it was fun. The feeling when the program ran or when I was able to solve that one problem, it was fun and nothing can take that feeling. I remember learning lot of things from this course and they are still in use by  me. But, what I learnt the most was how to learn things. It is not about settling in time and fixing the effort. It is more about working for it until you get the result. You need to solve those errors and bugs until you get the required result and it was a true and amazing lesson learnt.
When I look back at it, I think the reason that I took the course was because I fell in love with how simple commands dictate the entire computer industry and then it is about the permutation and combination of these simple commands that make up the entire big commands through which we are doing things. It was great I believe and every person should definitely learn the in and out of an operating system.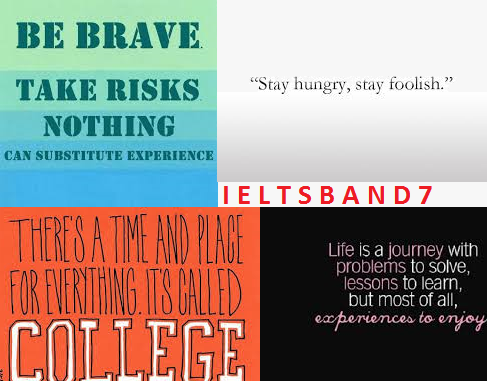 ---
Sample Answer Two
I went to a college where we did not had any freedom to take courses of our choice but there was a event that took place for a length of around one month and I was part of it. Later on, I was awarded with a certificate for taking the course.
It was a travel event. So, the college needed volunteers who could travel around the city in weekends and get to know the details of the city. Not just the historical places that are there to visit, but the areas where poor people lived, the red light areas, the ones which no one would go to, meet people who no one would ever go and meet. I think for me it was a course because I believe no one can teach you better than experience. And for me that was a great experience.
I was part of a team, where I had with me two more people, one was a photographer and the other was a writer. We went on to meet people, see places, interact with different people, write down things, click photographs and then come back after two days and in the entire weekdays would go on writing about the events that happened in the weekends. It was an amazing experience, we came to know more about the city an in the mean while more about ourselves.
There were times when we felt like losing and the next moment was when we won. People initially did not wanted to talk to us and then we found out ways different to make them comfortable and get to know about their lives.
The one thing that I learnt from this course that perseverance is truly the key to success. If you are not persistent, there is no point of success.