IELTS Speaking Part 3 Sample Questions # New Year
It has been 16 years since the new century has begun and we have embarked on a journey for new year. This time let has have a look at some questions that could be asked in PART 3 of IELTS Speaking. Remember, this is the section when you need to explain your answers and not just give one liners.
How do most people celebrate New Year in your country?
According to the Hindus, the new year is on the first day of Chaitra i.e. the month of April. People visit temples, greet each other and pray for a healthy, wealthy and prosperous life. Above all, seeking blessing from religious places on this day holds an additional significance. But, with the globalization, most people celebrate the new year on 1 January i.e. according to Gregorian calendar. On this day, many people go out with family and friends to parties, dance and enjoy.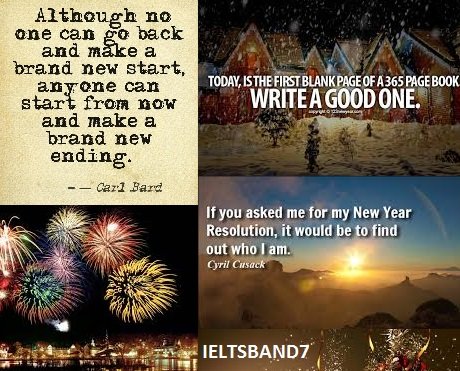 Do you believe New Year is a day to be celebrated?
New year is a surely a day to celebrate, an occasion when one could give themselves another chance. Although, this can happen on any other day, but a new year surely brings with it new hopes. However, in my opinion, there can be many ways in which people could celebrate their new year, not necessarily with friends and family. I believe, if one things that they like to celebrate the new year while working it is as perfect as someone choosing to party.
Do you take resolutions in New Year? How many of them do you follow?
Yes I do believe in resolutions and take them. As young I used to take resolutions that were not that meaningful or above the board. Leaving me frustrated on not having completed them. However, with time, I have realized that it is more about taking practical resolutions. For me, they are the goals that I set for myself in a year and I do stick with them through thick and thin.
Is there anything you would like to carry from the last year to the new one?
Well, surely there are lot of things that I wish remain same this year as well. It was last year that I made a truly good nice friend. He has been my first male friend and I wish to have him by my side for many more years to come. Then, there is a goal that I have set for myself last year. I wish to carry forward it this year as well and do nice work. Even more, I have realized that I have become much more positive and wise over the last year. I wish I am even more wiser and positive about life this year.
What is your opinion on having to work on New Year's Day?
I believe New year means new beginning and it is more of about letting go of the earlier bad habits and carry the good ones. So, having to work is not an issue for me and I believe if one has to there should not be much of problem. However, it is also a good idea to take a leave from work during the end of the year till New year actually begins. After all, it is a festive season, one can celebrate a good time with their family and friends.