IELTS Cue Card Sample Answer # Historical Event
Describe an important historical event in your country.

You should say :

when it happened
what is its significance
what were the important people involved in it

Also, say why is it important to the history of your country.
India is the largest democracy in the world and the largest country in South East Asia. But,  India has not been democratic since time immemorial. We were under the rule of British for almost 200 years and it was after a long freedom fight that India became independent. In the midnight of 15 August 1947, when the world was asleep, India woke up to a new freedom, with the first Prime Minister as Jawaharlal Nehru.
But, what was the most happy moment for the entire country, required so much of effort and so may people becoming martyrs. No matter, how many people we say responsible for our freedom, I believe the first hammer that was struck to Britishers was by Rani Laxmi Bai in 1857. The revolt of 1857 was the first time that the entire India united against the British Rule. The revolt started from Meerut where some sepoys started a rebellion against the Britishers and soon it spread out to the different parts of the country, involving Rani Laxmi Bai, Mangal Pandey, Birjis Qadr,Babu Kunwar Singh and many more.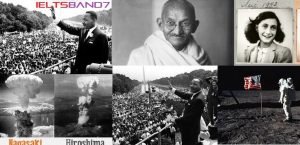 There was no one particular reason for the rebellion but many of them. Britishers had for a long time tried to rule the country indirectly, taking away all the resources of the country and weakening the internal power of the country, not allowing the rulers to rule. Although, at that time, India was being ruled by different forces, when the rebellion took place, the entire country went to Bahadur Shah Jafar.
Although, India lost that battle, but Britishers realized that if they want to rule the country, they need to rule from Delhi and Indians realized that they too can fight against Britishers. It was after this battle that several groups started coming in to fight against Britishers for freedom, which we definitely got in 1947.
---
What do you think we can learn by studying the events of the past?
We learn from our mistakes, and just like individuals learn from the mistakes made by themselves or by others, we as entire society can learn from the mistakes that we have made in the past. Also, there are things that we can repeat that were good in history. To be able to repeat and prevent it is very important to know the history and knowing history is not about knowing the names and characters but about understanding the entire flow of data.
What important events do you think might take place in the future?
With respect to my country, I believe there are certain events that are bound to happen in the future. One of them is the strengthening of women in our country. There is a certain degree of respect and love given to women in our country but there are certain areas in which we lack in terms of equality. I believe that in future there will be more of woman power coming up. Also, it is very likely possible that the matter of Kashmir will be solved in the future. It is high time that India and Pakistan are fighting over the case of Kashmir, causing distress to both Kashmir, Pakistan and India. I hope and believe that the decision will be made very soon.
Do you think internet is a good place to learn about history?
Definitely yes. For the initial startup, I do believe that internet is a great place to learn about history. You can learn from different sources, for free and figure out if you are really interested in learning about history. When that happens, one can very easily go for a formal course. Even though, if people are not interested in going for formal courses, one can learn about it from different websites and you tube and so much more.
---
International Experienced Teacher Best Training By CELTA Trainer. Best Results
Easily Get Required Score
IELTS Exam Dates Available, Small Batch Size with Flexible Time, Professional.
Easily Get Required Score
I am interested in IELTS
Pass with Confidence, Dehradun
Small Batch Size with Flexible Time, professional faculty.
Learn From Experienced Teacher
Best IELTS Coaching Dehradun
Best IELTS in Dehradun Uttarakhand
GMS Road
Apply for Class Courses Today
Good Results. Small Batch Size, Flexible Time and Professional IELTS Teacher
Best IELTS coaching classes
IDP certified British Council trained and CELTA certified experienced trainer.
Easily Get Required Score
Tel:8439000086
Tel:8439000087
Tel:7055710003
Tel:7055710004
Tel:7055710009Feel free to call for suggestions and queries.
IELTS Band 7 Dehradun
Near Ballupur Chowk, Dehradun
IELTS Band 7 Saharanpur
Parsvnath Plaza, Saharanpur
email: info at ieltsband7.com