We all posses certain things which are important to us. It could be either a camera or a pen or may be a laptop. Something that we wish stays with us forever. It might be gift or may be something one bought after saving a lot of money. Let us today, have a look at some of the things people find important using the IELTS cue card.
Describe a thing you possess which is important to you.

You should say:

What it is?
What it can do?
How you use it?

and explain why it is important to you.
Sample Answer One – Laptop
There are so many things that are important for me, but I think the one thing I cannot live without is my laptop. I have got MacBook Air and have recently bought it. It is my first laptop and before buying it, initially I thought of buying a plain IBM computer. But, for some reasons, MacBook Air struck a chord with me. I just wanted to have it and started saving for it. It took me three months of saving and rigorous work routine before I could buy myself, my first laptop a MacBook Air.
The device has got 8 GB of RAM and 128 GB of internal storage. With such high specifications, I can do almost about anything in the computer, from blogging to writing heavy codes and then learning lot of things from the app store available. You can click photos, send documents, basically everything that one can do on a personal computer, only a bit faster and better.
I use it extensively for coding. Being a software engineer I need a laptop that is secure and is less susceptible to crashes. And MacBook air suits the bill. It is safe and my date is always secure. Even more, since it is light weight it is very easy for me to carry it with myself on the various travel trips that I take.
The reason that I love my MacBook is because it helps me get the best of both worlds. Not only can I easily blog on it, I can also code fairly well.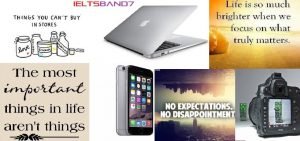 ---
Sample Answer Two – DSLR
The one thing that I cannot imagine my life without is my DSLR. Being a travel blogger, it is very important for me to be able to click great photographs and create nice videos. Understanding the need of DSLR in my business, I bought for myself a CANON EOS 1200 D. The camera is my best company when I have to travel.
I can click photos, create videos and then sometimes get completely lost in my world of pictures. The camera can click photographs of high clarity and the zoom level clarity is so fine that one can instantly fall in love with it.
I remember saving for two months and working vigorously before I could buy myself my first DSLR. Although, there were so many people who asked me to buy a normal digital camera and not bury myself to death for a DSLR, for some reasons my heart was at it. And when I bought it, the day was amazing.
Although it was expensive in the beginning, since I have been using it for travel blogging, the site has earned me quite well. As a result, I have been able to afford the camera and now even upgrade it to better lenses.
The reason why I love the camera so much is because it keeps me close to two loves of my life, travelling and writing. Had it not been for the camera, I can't imagine my travel blog happening. With cash flowing in, now people do understand that things like traveling and following passion are very much practical and can be done, or rather should be done.
---
International Experienced Teacher Best Training By CELTA Trainer. Best Results
Easily Get Required Score
IELTS Exam Dates Available, Small Batch Size with Flexible Time, Professional.
Easily Get Required Score
I am interested in IELTS
Pass with Confidence, Dehradun
Small Batch Size with Flexible Time, professional faculty.
Learn From Experienced Teacher
Best IELTS Coaching Dehradun
Best IELTS in Dehradun Uttarakhand
GMS Road
Apply for Class Courses Today
Good Results. Small Batch Size, Flexible Time and Professional IELTS Teacher
Best IELTS coaching classes
IDP certified British Council trained and CELTA certified experienced trainer.
Easily Get Required Score
Tel:8439000086
Tel:8439000087
Tel:7055710003
Tel:7055710004
Tel:7055710009Feel free to call for suggestions and queries.
IELTS Band 7 Dehradun
Near Ballupur Chowk, Dehradun
IELTS Band 7 Saharanpur
Parsvnath Plaza, Saharanpur
email: info at ieltsband7.com