There are times in our lives when we do understand the importance of exercise but than most of us forget it and go back to our mundane lives. Let us today have a look at a cue card that talks about a exercise that you used to do but have left it now for some reasons.
Talk about a form of exercise you used to do but no longer do now.

You should say:

What short of exercise it was
How long you did it
Why you stopped

And say if you would like to do it again or not. why?
I remember I had started a routine where I used to go our for jogging everyday in the morning. So, for about an hour  I used to go out and jog and it was really nice. I would some times go to a different route, the other times to somewhere else and in that way explore the city. It was nice, but with work pressure increasing, I slowly left it.
I remember going our for jogging for almost seven months before I just could not manage to do away with the increased work pressure and jogging. Most of the times, I could barely get up in the morning and slowly I left of with this habit.
But, it is now that I realize that it was really good and in between work and exercise I should have given more priority to the exercise because it helped me to do my work more effectively.
But, this week, I have decided to start off with the daily regime that I had and get going with it. I have already gone for jogging for now almost three days in a row and wish to be able to finally carry this habit for the entire life.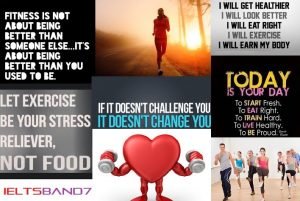 ---
I remember joining the yoga club some time back and used to go for yoga everyday in the evening, for an hour. It was truly amazing because after a long day I used to feel good about life and be relaxed.
I continued doing it for almost six months before I had to leave the training center and shift to a new place. Although I did tried to continue the habit I could not do it. Firstly, there were no near by yoga centers and for me to be able to do it regularly on my own was not possible.
Some day or the other some work would pop up and I won't be able to do it. But, I have realized that exercise is surely very important for us and therefore I would continue with some other form of exercise.
The reason I wont go back to yoga is because with yoga, initially, I believe one needs a trainer and doing it on your own may lead you to do wrong steps or things that might not be very effective. I am rather planning to starting off with jogging everyday and playing badminton to remain fit.
---
International Experienced Teacher Best Training By CELTA Trainer. Best Results
Easily Get Required Score
IELTS Exam Dates Available, Small Batch Size with Flexible Time, Professional.
Easily Get Required Score
I am interested in IELTS
Pass with Confidence, Dehradun
Small Batch Size with Flexible Time, professional faculty.
Learn From Experienced Teacher
Best IELTS Coaching Dehradun
Best IELTS in Dehradun Uttarakhand
GMS Road
Apply for Class Courses Today
Good Results. Small Batch Size, Flexible Time and Professional IELTS Teacher
Best IELTS coaching classes
IDP certified British Council trained and CELTA certified experienced trainer.
Easily Get Required Score
Tel:8439000086
Tel:8439000087
Tel:7055710003
Tel:7055710004
Tel:7055710009Feel free to call for suggestions and queries.
IELTS Band 7 Dehradun
Near Ballupur Chowk, Dehradun
IELTS Band 7 Saharanpur
Parsvnath Plaza, Saharanpur
email: info at ieltsband7.com