IELTS Graph – Club preferences by age range
IELTS WRITING TASK 1
You should spend about 20 minutes on this task.
The bar graph below represents the data about the clubs joined by the people of two different age groups at a leisure center.
Summarise the information by selecting and reporting the main features, and make comparisons where relevant.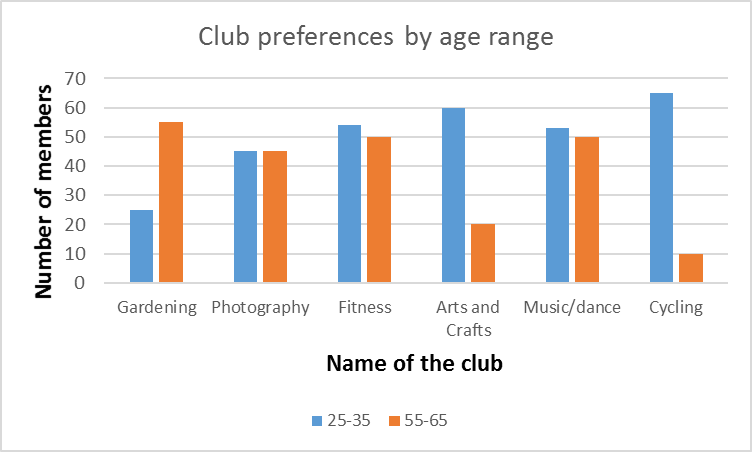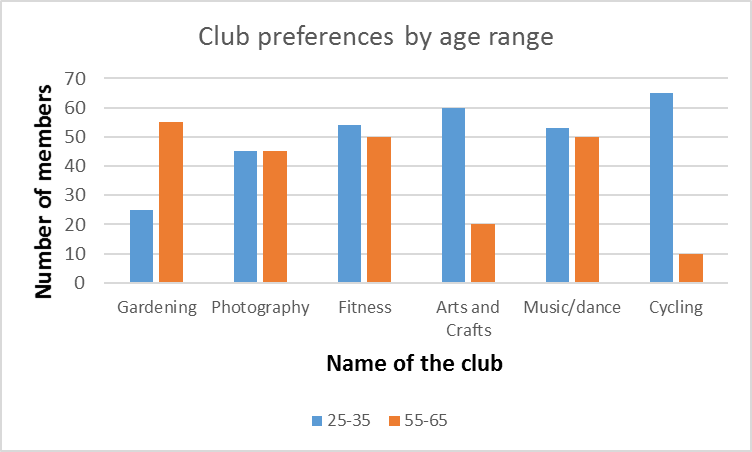 Sample Answer:
(IELTS Lavel 8.5)
The bar graph compares the popularity of six activity clubs between two adult age groups at a particular leisure center.
OR
The bar graph provides information about how two age groups participate in six activity clubs at a particular leisure center.
One striking feature of the data is that the photography, fitness, and music/dance clubs are popular with both older and younger people. By Contrast, the cycling, arts and crafts, and gardening activities clearly appeal more to one of the age groups. The cycling club has the greatest number of 25-35 year-olds, but it is one of the least popular clubs with the older age group.
This trend is closely followed by the arts and crafts club which has 60 young members in comparison with only 20 from the 55-65 age bracket. In the gardening club, the pattern is reversed. There are about 55 members aged between 45 and 55 while the proportion of young participants is considerably lower. Notably, the composition of fitness and music/dance clubs is quite balanced, but there are slightly fewer older members. The membership of photography club stands at 45 for both groups.
In general, it can be concluded that some clubs attract both young and old people. Nonetheless, overall, the younger age group is significantly more involved in various activities than the 55-65 year-olds. (220 Words)
Feel free to call for suggestions and queries.
IELTS Band 7 Dehradun
Near Ballupur Chowk, Dehradun
email: info at ieltsband7.com