IELTS Writing Chart Sample Answer # Roadblocks
You should spend 20 minutes on this task.
The below graph illustrates the various roadblocks that enterpreneurs face while opening their own company.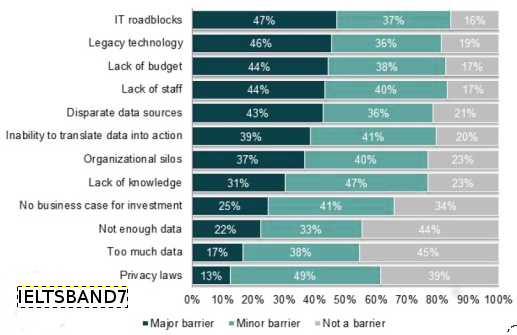 You should write at least 150 words.
SAMPLE ANSWER
The graph illustrates the various problems that people facing while delving into the entrepreneurship cap. It explains the degree of impact the various issues can have on your dream of becoming your own boss.
The major barriers that slow down the starting year of a business are IT and legacy technology. Once a person surpasses these, they have to face the budget and the staff issues along with the ambigious data. These factors have a huge impact of more than 40 % in deciding the business. Other factors that o,pact that hinder the dreams are the inability to translate data into action, lack of knowledge and organisation capabilities.
The minor barriers that to an extent hamper the growth of a business are investment issues and not enough data having a 20% stake on it. Other than not having enough data, sometimes having too much of data and certain private laws cause trouble.
Overall, the major factor that impacts the business growth is IT roadblock while private laws cause the least trouble.
IELTS Dehradun Uttarakhand Tel: 8439000086