WRITING TASK 1
You should spend about 20 minutes on this task.
The line graph below shows the number of birds of different types sighted at Bharatpur Bird Sanctuary between 2001 and 2014.
Summarise the information by selecting and reporting the main features, and make comparisons where relevant.
Write at least 150 words.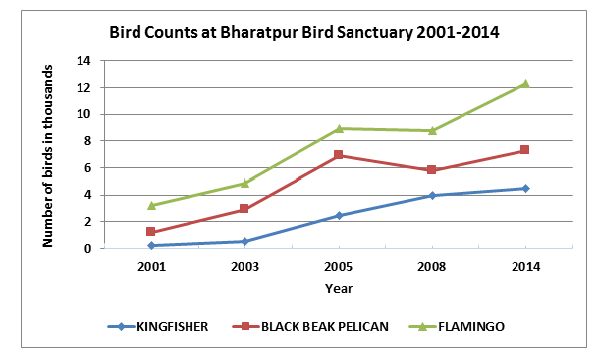 Sample Answer
The line graph provides information about how the numbers of three kinds of birds sighted at Bharatpur Bird Sanctuary changed over a period of 13 years (2001-2014).
Overall, it can be clearly observed that the numbers of all types of birds experienced a significant rise with time and flamingos recorded the highest count throughout the years.
In the year 2001, the numbers of kingfisher, black beak pelican and flamingo were 200, 1000 and 3000 respectively. After a span of 2 years the numbers of kingfisher experienced a slight growth and recorded at 500. In comparison, black beak pelican and flamingo figures rose considerably to 3000 and 5000 respectively.
In the year 2005, the count of kingfishers was 2500, while the other two species had significantly high totals. Over the course of next 3 years, flamingo counts leveled out at approximately 9000. The population of black beak pelican in the bird sanctuary saw a marginal decline in the same time period. Notably, kingfisher was the only species that showed an increase in numbers. In 2014, the numbers of flamingo were approximately 4500 more than that of black beak pelican and approximately 7500 higher as compared to kingfishers.

IELTS Dehradun Uttarakhand Tel: 8439000086 , 8439000087