With every passing day, more and more countries are accepting IELTS, making it a truly acceptable International exam. This time it is Croatia that has finally said yes to IELTS.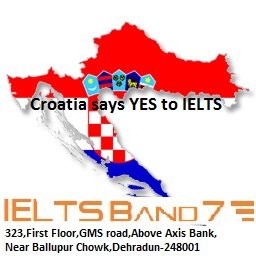 Say Yes To IELTS
Slowly but surely IELTS finds its way into Croatia . More universities have now joined the list of many others already recognizing IELTS in the the country.
It has opened its borders to IELTS. People's Croatia to recognize IELTS – surely others will follow and it's just a matter of time. Approximate 3+ organizations and universities are accepting IELTS. There is the list of some of them.
– International College of Hotel Management, Zagreb
– International Graduate Business School in Zagreb
– University of Split, Faculty of Philosophy, English Department
www.ieltsband7.com 084390 00086 , IELTS Band7, 323, GMS Road, Dehradun, Uttarakhand 248001