You should spend 40 minutes on this task.
There should be more equality at workplace, ensuring people get what they want based on their credentials.

Discuss.

You should write at least 250 words.
In recent decades, most countries have done fairly well in achieving gender equality. However, there is so much more that needs to be done. With instances of gender discrimination in the companies, there have been rising voices demanding equal rights.
For instance, a female actress is more likely to earn less than her male counterparts. This is not only obvious in countries like India, but is a common phenomenon in entire world. Similarly, men find it difficult to get family friendly work policies, or flexible work arrangements to when compared to their women counterparts.
Every individual has the liberty to live their lives on their own terms. Hence business organizations should thrive towards the removal of barriers to ensure full and equal participation of men and women equally. Even more, the same policies should be applied while recruiting candidates. This ensures that both men and women get equal  employment opportunities on the basis of their qualification and competence.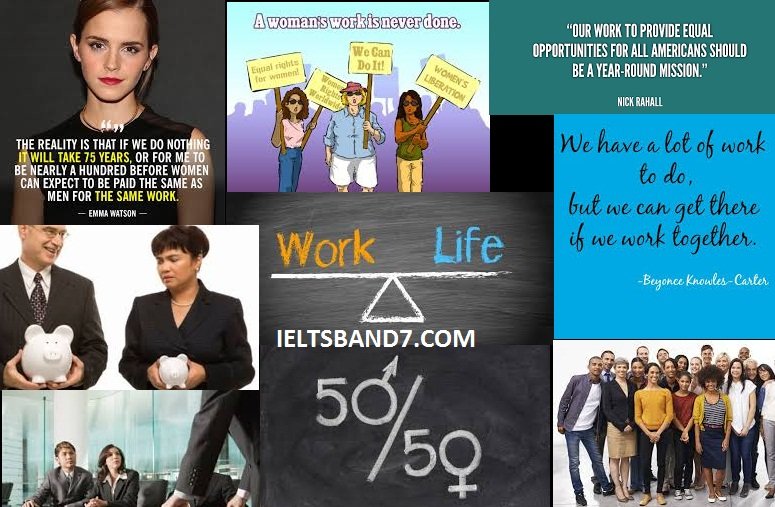 In addition, it should be the responsibility of the organization to ensure that every individual in its organization is getting the same benefits. They need to consider health, money and bonus. Finally, workplaces should eliminate any forms of gender discrimination on the grounds of marital status, pregnancy or maternity, and in relation to family and caring responsibilities for both women and men.
In conclusion, the achievement of gender equality in workplace is not only necessary but important for productivity of the organization and more importantly nation.
Best IELTS coaching